Residential Landscape Services
Retaining Walls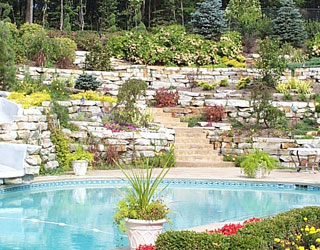 Retaining systems are used for many different applications.
Perhaps your home has a sloping grade in the backyard that you wish to level off around the house or backyard, or maybe just to enhance the beauty of a landscaped bed, a retaining system can help!
There are many different kinds of retaining systems to choose from:
Landscape Ties
Brick
Inter-Locking Pavers
Stone
All of them can provide the solution to your needs. WonderGro installs only the finest materials from Unilock, AllanBlock, and more to provide you with a lasting retaining system that is done right the first time.
All of the products used allow for curvatures in design to create a masterpiece of beauty.
Contact WonderGro today for a free retaining system consultation. Learn about the best option for your landscaping needs.