Commerical Winter Services
Snow Removal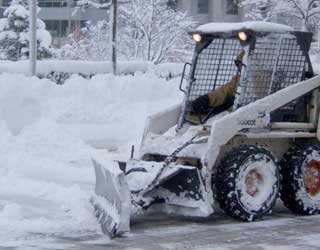 Ready to go before the snow
All of WonderGro's snow removal equipment is ready to roll as soon as the storm begins.
We continually perform routine maintenance on all equipment to ensure top performance and provide the service our customers expect.
WonderGro only has late model vehicles specially setup for snow removal using the latest equipment available from both Meyers and Western Products.
Finding a Reputable Contractor
When looking for a contractor to handle snow removal at your facility, you want to find a contractor who can achieve four important objectives:
1.
Experience with snow removal at commercial properties.
2.
Timely service.
3.&nbsp
;Equipment reliability and availability to meet your snow removal needs.
4.
Customer references and testimonials.
WonderGro has been in the commercial snow removal business for over fifteen years. Our experience is what our customers expect. We have the right equipment to meet any snow and ice removal needs that may arise throughout the winter season.
Our Communication Network
We continually monitor several weather sources throughout the season, including our own MxVision weather solution.
MxVision allows us to continually monitor storm cells as they pass over our customer properties. This enables us to also see where there may be more significant accumulation.
All vehicles are equipped with two-way radio communication to keep in continual contact.
Whether there is significant ice build-up or our customers on the north tier have received more snow than our southern tier customers, we can get more equipment dispatched faster to effectively remove the snow and ice build-up.
We are never too far away! Customers receive a priority voice-mail box that is continuously monitored.
Our voice-mail system automatically sends us an alert of the mail. This allows us to keep continual contact of emerging needs.
Sidewalk Crews & Handicap Parking
Each sidewalk crew is equipped with snow blowers, shovels and salt spreaders to ensure a safe and clear path from the parking lots to the entranceways of each building.
WonderGro also takes extra care to ensure the surrounding areas of handicapped parking spaces are especially cleared of snow and salted well for the safety of anyone with special needs.
Be ready to go – before the snow! Contact WonderGro today to discuss your snow removal needs. We will formulate a cost-effective snow removal plan to provide your business the service it should expect.